Brew Hub – Lakeland, FL
"Just like there is a story in every beer that we brew,
there is a story to every piece Rustic Grain created."
Diane Schoen -Brew Hub
Watch Video
Brew Hub was founded in 2012 in St. Louis, Missouri by a team of industry executives and craft brewing experts led by Timothy Schoen.  Brew Hub provides an entirely new business model for the craft brewing industry. With the right products and partnership opportunities, they're putting the power back into the hands of the brand holder—without the capital exposure.
The Challenge
When Brew Hub approached Rustic Grain, it was a match made in heaven. Being big craft beer fanatics, the Brew Hub concept and the possibility of this being our first brewery project truly got the creative juices flowing.
Although there are always major challenges with a project of this scale and uniqueness, one of the biggest issues was designing and fabricating for a project that was over 1000 mi away. Some additional challenges were as follows:
Managing the routine architectural changes of a building being built from scratch,
Ensuring our proposed designs would fit the unique environment Brew Hub was trying to create in their Florida location.
Coordinating specific installations by the Rustic Grain team
Taking necessary steps to ensure our products would adhere to the tough Florida climate.
The Approach
Through (online) meetings with project managers, architects and on-site contractors, we were able to design and produce the entire project in our St. Louis facility along with the Brew Hub principals.   After rounds of computer generated furniture design plans and wood samples created for final furniture finishes, we were able to create the space featured.
In addition, 90% of the material sourced for this project came from a barn in St. Clair, Missouri. Adding an even more unique touch to this one-of-a-kind brewery.
Signature Piece:
Tasting Tables
Tasting tab
Project Inventory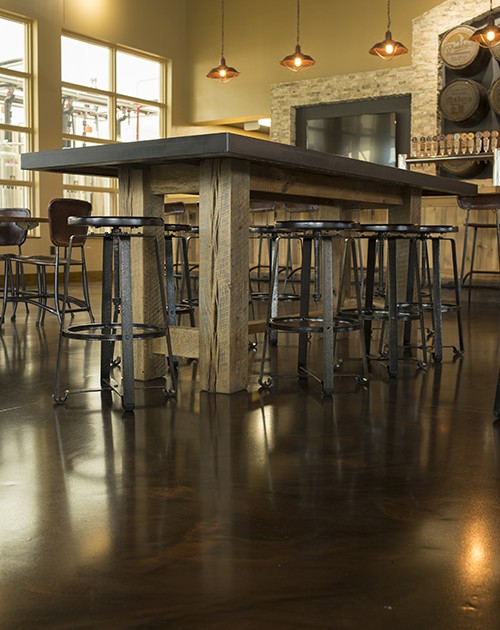 2

Tasting Tables
Wood Type: Reclaimed Barn Wood
Finish: Oil
Hardware: Custom Steel Table Top Frame
Built from a combination of reclaimed barn wood 6"x6" beams
and floor joists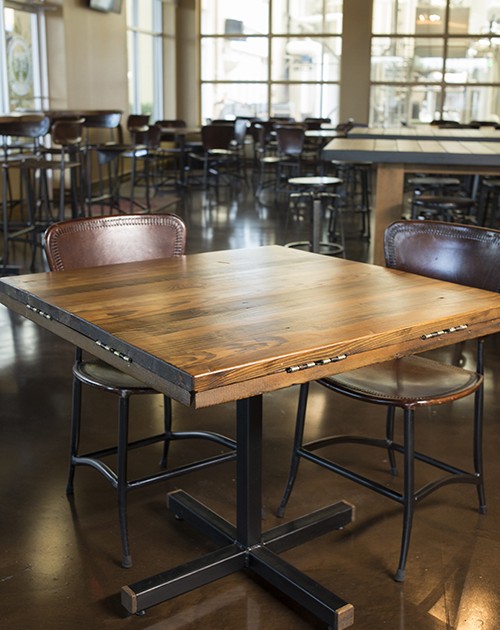 Bistro Square Rounds
Wood Type: Reclaimed Pine Barn Wood
Finish: Dark Walnut Oil
Overall Dimensions: 36" SQ x 30" (h)
Butterfly Hinges to extend to 60" round table top
Black Matte Bistro Base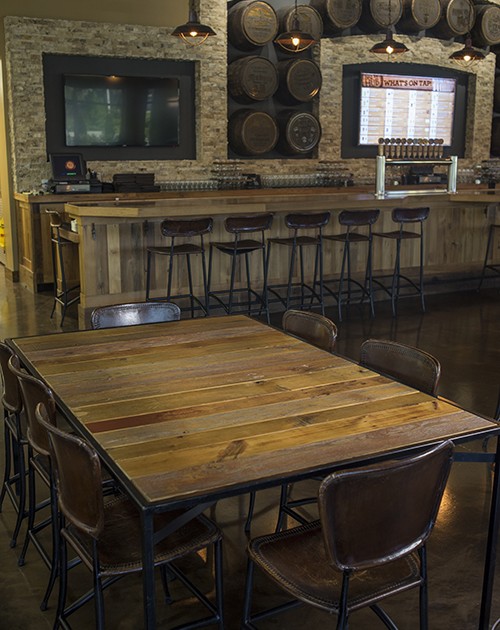 2

O'Fallon Collection Dining Tables
Wood Type: Reclaimed Pine Barn Wood
Finish: Natural
Overall Dimensions: 72"(l) x 30"(l) x 30"(h)
Seats: 6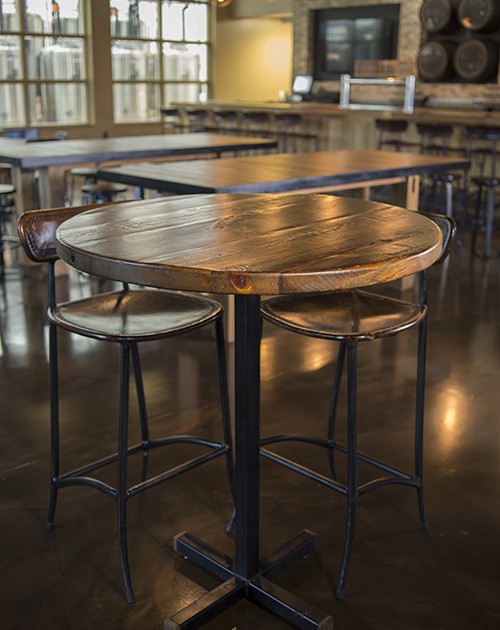 36" Round Bistro Bar Table
Wood Type: Reclaimed Pine Barn Wood
Finish: Dark Walnut Oil
Overall Dimensions: 36" Round x 42"(h)
Bistro Bar Base with reclaimed wood caps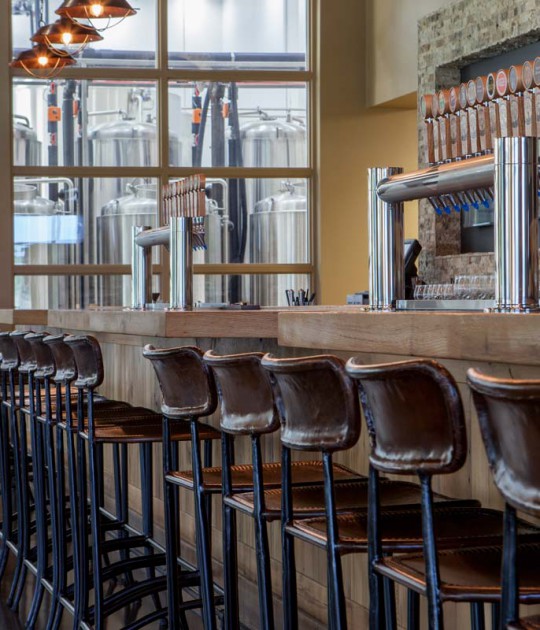 Bar & Back Bar
Wood Type: Reclaimed Pine Barn Wood
Finish: Natural
Over 100' of reclaimed bar top
Epoxy top coat finish
Accent pieces: boat cleats for bag hooks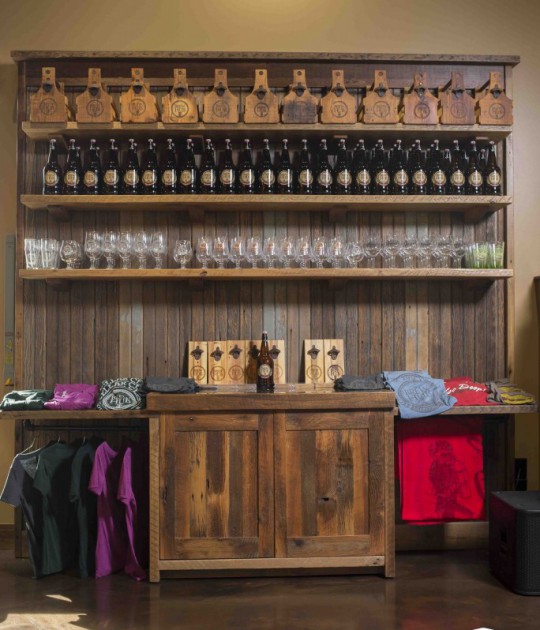 Custom Merchandise Display
Wood Type: Mix Reclaimed Barn Wood
Finish: Natural
Overall Dimensions: 120"(w) x 108"(h)
Cabinet Doors with reclaimed bolt door pulls
Glass inset display case

Every Piece Has A Story To Tell
Every piece Rustic Grain creates has its own story to tell. Our craftsmen strive to preserve the customer's ability to see that story. Every Brass Tag links our client's story to the barn it came from. Learn About Our Tags >