Juniper
"They were open to my suggestions, always willing to listen and their craftsmanship was amazing."
John Perkins -Juniper
John Perkins, Juniper's chef-proprietor is originally known throughout St. Louis for Entre, a private dinning club that launched in 2008. As word spread of his delicious meals and events, St. Louisans demanded he take his culinary experience to the next level. John had a vision for a new St. Louis restaurant.  In October of 2013, combining his previous culinary experiences in St. Louis with his roots in the South he created Juniper.
The Challenge
Through a referral from a friend of Rustic Grain, we had the pleasure of working with John Perkins. How did Rustic Grain come into this picture?  Simply, we fit.
For his new restaurant John wanted an old country look, something with character, and something reminiscent of his early years in southern Missouri.  He was looking for banquettes for communal dining and barn wood farmhouse styled tables for individual dining. He was looking to make a bar from his "find" of old paper crates. His vision was right out of the Rustic Grain playbook
The Approach
With all of this in mind and a need to have the space ready for a fast approaching opening date, we were able to help John design a space that only captured the rustic style, but also that would be compliment the natural beauty of the space itself.
For his bar we patch-worked his crate collection, mixed it with our St. Clair barn wood, capping it in all with vintage oak. We added other restaurant accents like a barn wood kitchen cafe door, a weathered barn wood wall extension and vintage wood backsplash and counter in the dining area's front window.
Since opening, John has continually added Rustic Grain commissioned items as he has expanded due to the growing demand. Below you will find some of the most newest items custom made for Juniper.
Signature Piece:
12' Barn Door
Project Inventory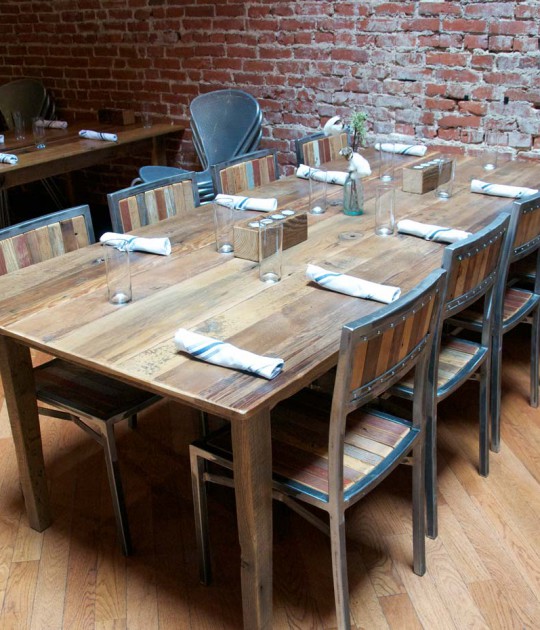 Custom St. Clair Collection Dining Table
Wood Type: Reclaimed Pine Barn Wood
Finish: Natural
Overall Dimensions: 120"(l) x 42"(w) x 30"(h)
Seats: 8-10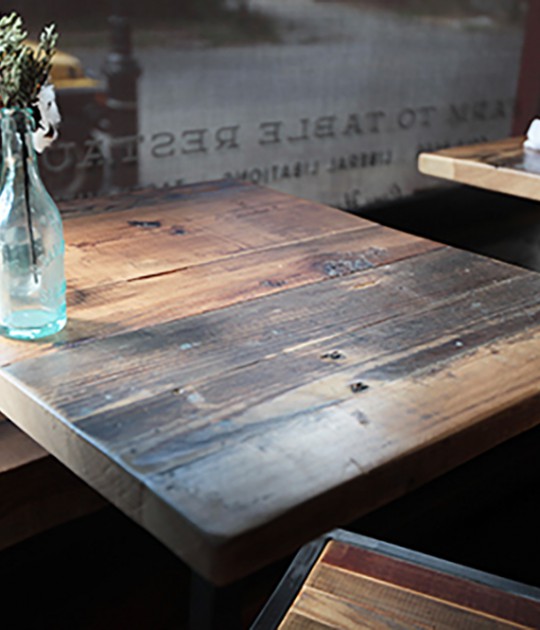 3

Rustic Bistro Tables
Wood Type: Reclaimed Pine Barn Wood
Finish: Natural
Hardware: Bistro Base
Overall Dimensions: 24" SQ x 42"(h)
Seats: 2
Every Piece Has A Story To Tell
Every piece Rustic Grain creates has its own story to tell. Our craftsmen strive to preserve the customer's ability to see that story. Every Brass Tag links our client's story to the barn it came from. Learn About Our Tags >