Serendipity Gallery
"Their attention to detail with telling you where your piece comes from and the history of the barn is really something fun."
Lisa Anne Houdyshell -Serendipity Gallery
Located in St. Louis' historic Delmar Loop and opening in September of 2013, Serendipity Gallery is committed to showcasing contemporary artists who express themselves in paintings, photography, jewelry, sculpture, ceramics, wood, metal, and glass.  Serendipity Gallery's goal is to aid in your quest by bringing you uncommon objects in a way that is fresh, inviting, and informal.
The Challenge
When we were first approached by Lisa Houdyshell, a seasoned commercial lawyer and world traveler, she had recently decided to pursue a career in an area she loves even more, art.  She has natural, impeccable taste in everything from sculpture, to interior design, photography and painting.  That's when Serendipity Gallery came to fruition.
When she located the retail space for this concept, Rustic Grain was fortunate enough to see the space in its original state and propose several ideas for this unique gallery.
The Approach
Utilizing Rustic Grains' chosen medium, she instinctively saw what could be created for her gallery even before we could get the initial drawings complete.  She envisioned a tiered display/checkout counter made entirely out of barn wood and reclaimed materials.  We fleshed-out the design with her, custom built it and then accented the remaining space  with antique tin roofing, barn wood pedestals, and barn wood doors with glass insets.
Her inspiration spurred some of our best work yet
Signature Piece:
Reclaimed Barn Wood Display Counter
Reclaimed Barn Tin Facing
Deep glass display cases
Locakable drawers
Project Inventory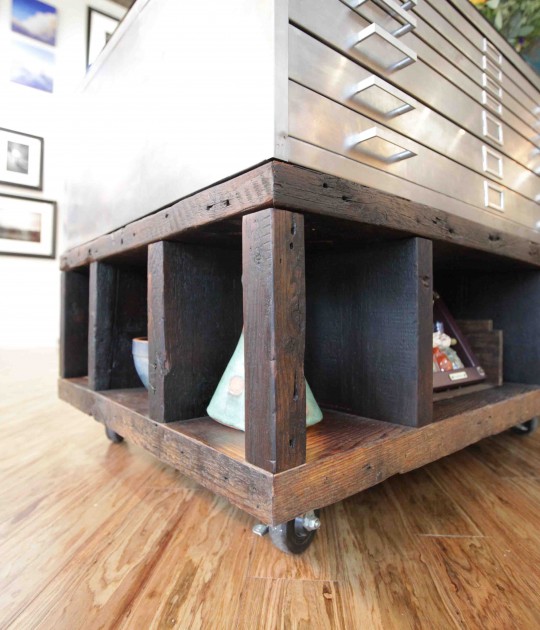 2

Reclaimed Barn Wood Casterss
Wood Type: Reclaimed Oak
Finish: Oil
36" x 36" Reclaimed Oak Casters with Chubby Storage
4 Mounted Wheels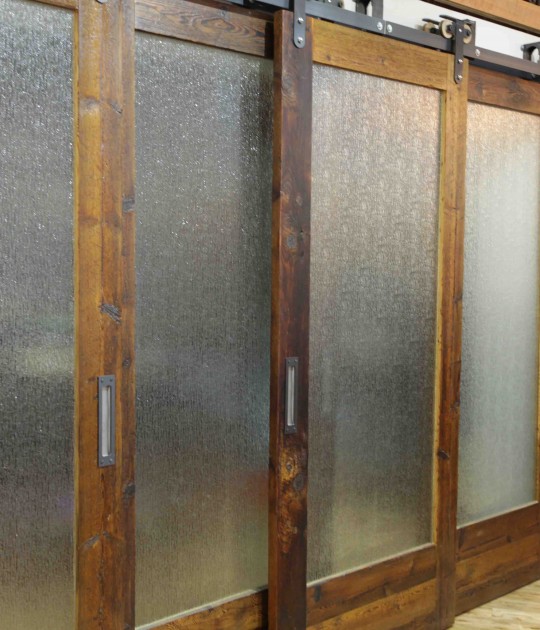 4

Reclaimed Oak Barn Wood Doors with Glasss
Wood Type: Reclaimed Oak Barn Wood
Finish: Oil
Hardware: Custom Track & Wood Gliders
Overall Dimensions: 96"(h) x 36"(w) x 2" thick
Frosted "Rain Effect" Glass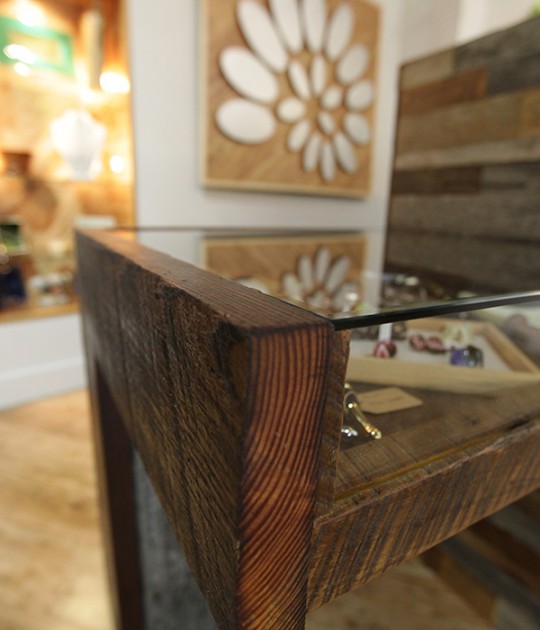 Reclaimed Barn Wood Display Counter
Wood Type: Mix of Oak & Pine
Finish: Rustic Natural
Reclaimed Barn Tin Facing
Deep glass display cases
Locakable drawers
Every Piece Has A Story To Tell
Every piece Rustic Grain creates has its own story to tell. Our craftsmen strive to preserve the customer's ability to see that story. Every Brass Tag links our client's story to the barn it came from. Learn About Our Tags >