With offices in St. Louis, Atlanta, Dallas, Chicago & Charlotte, Fusion Marketing is a premiere national strategic and digital marketing company.  Working with clients like Bud Light and Dr. Pepper, Fusion Marketing is a go-to partner for experiential and brand marketing.
The Challenge
Like their clients, Fusion Marketing was in need of a unique piece for their St. Louis HQ conference room.
After seeing some of the same custom Rustic Grain EADS collection co-working tables at Cambridge Innovation Center in St. Louis, Fusion Marketing commissioned us to fabricate the same table, but on a much larger scale.
The Approach
Working with our clients, we created the largest EADS Collection conference table yet.  The final dimensions of this conference table span a little over 12′ long and 5′ wide.
Utilizing our thick 2″ base we are able to give ample support to the thick 2″ poplar (locally- sourced) top weighing about 275 lbs.  Bringing a combined weight of about 500 lbs for the entire piece.
Blending a natural look of the steel with one of our signature ebony/oil blend wood finishes, we were able to really make the piece itself standout in the overly white environment of this conference room.  Not to mention contrast well with the red executive conference chairs Fusion Marketing was already utilizing.
Signature Piece:
Custom EADS Collection Conference Table
Project Inventory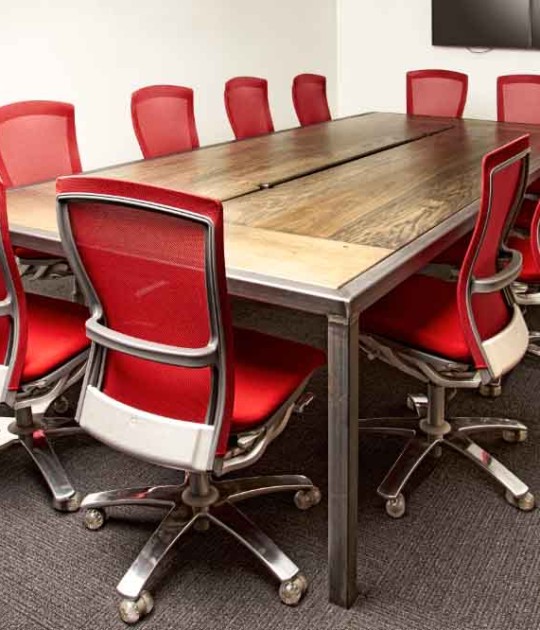 Custom Conference Table
Wood Type: Poplar
Finish: Ebony Oil Blend
Overall Dimensions: 12'(l) x 5'(w) x 30"(h)
2" Custom Steel Base with Clear Coat Finish
Center Cable Management Channel
Every Piece Has A Story To Tell
Every piece Rustic Grain creates has its own story to tell. Our craftsmen strive to preserve the customer's ability to see that story. Every Brass Tag links our client's story to the barn it came from. Learn About Our Tags >