BYRNE Public Relations
"During our renovation process, we really wanted items that would make our space standout. Between our Rustic Grain barn wood accent wall, sign and conference table, we accomplished just that."
Paul Byrne -President, BYRNE PR
Early in his career, Paul Byrne served as director of Marketing Communications where he was responsible for all communications for all Anheuser-Busch brands. In 2011, Paul left Anheuser-Busch to launch BYRNE PR.  Located at 4337 Manchester Ave in St. Louis, Missouri, Byrne PR provides public relations, media relations, speech writing, crisis management, social media counsel, and brand positioning services to clients through the U.S.
The Challenge
Paul and his team set up shop in an old retail space on Manchester in the "Grove", a business district located between Vandeventer and Kingshighway in St. Louis.
The building itself needed a complete makeover and that's just what Byrne PR did.  With large glass windows, the space is very warm with the abundance of natural of light.  Also, with the ceiling exposed, Pual wanted to add items that would be focal points but also blending the new with old.
The Approach
In collaboration with Paul and his team, Rustic Grain decided that the perfect touches would be our very own EADS Collection Steel Base conference table with a custom designed reclaimed wood top and a barn wood accent wall it the roughest state possible.
In addition, a to the credit of our client's creativeness, a steel laser cut sign with the company logo.  In the end, the space speaks for itself.
Signature Piece:
Barn Wood Accent Wall
Over 150 sq ft of reclaimed pine barn wood accent wall
A custom barn wood backlit sign with distressed steel logo

Project Inventory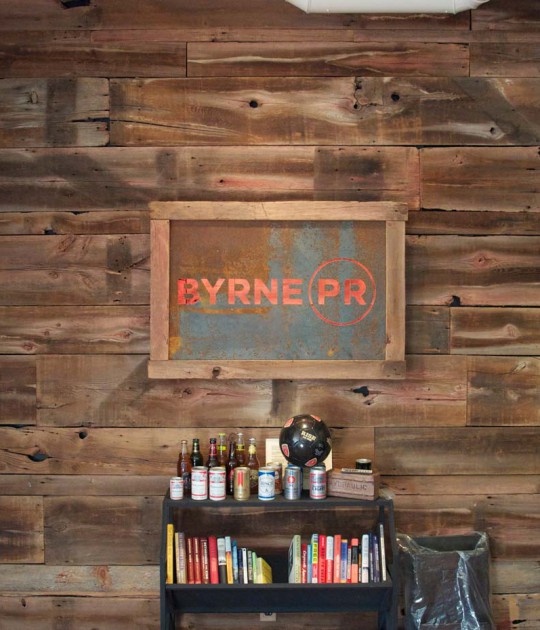 Accent Wall
Wood Type: Reclaimed Pine Barn Wood
Finish: Natural
Hardware: Custom Backlit Steel Company Sign
Over 150 sq ft of reclaimed pine barn wood accent wall
A custom barn wood backlit sign with distressed steel logo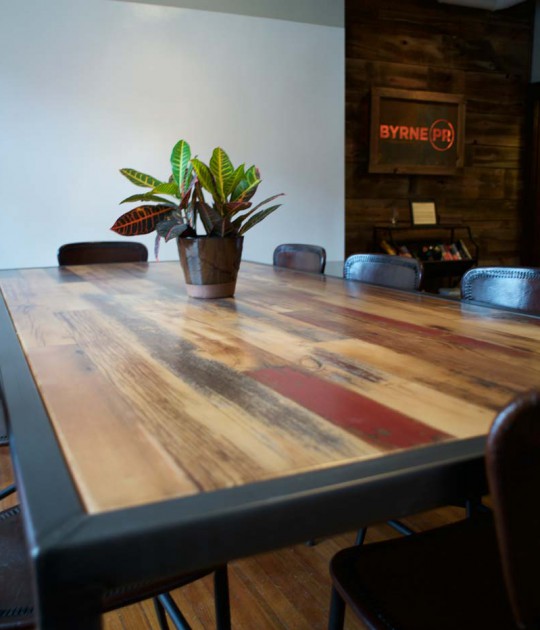 Custom EADS Collection Conference Table
Wood Type: Reclaimed Pine Barn Wood
Finish: Epoxy
Overall Dimensions: 104"(l) x 48"(w) x 30"(h)
Steel Base: 2" x 11 Square Tubing with Natural finish
Clear Coat Epoxy finish to achieve uniform table surface levelness
Every Piece Has A Story To Tell
Every piece Rustic Grain creates has its own story to tell. Our craftsmen strive to preserve the customer's ability to see that story. Every Brass Tag links our client's story to the barn it came from. Learn About Our Tags >