Materials & Resources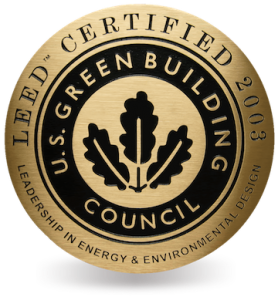 For projects looking to achieve highest possible LEED rating, without incurring costs that can't be recovered through tax credits or energy savings, simply changing their material source and waste management are two of the easier ways to increase points towards LEED certification.
At Rustic Grain, although our focus is preserving the history of the wood through repurposing, we find that we fill a need in the greater St. Louis area for LEED certification.  Put simply; all of our materials are sourced within 250 miles of St. Louis, we waste less than 10% of all reclaimed materials, we can even use materials provided from demolition to be repurposed into the new construction or renovation, and our products are more than 99% recycled material by weight.
A General Overview of Materials and Resources in the LEED Rating Systems
LEED: A Tool for Market Transformation 
Through the LEED® green building certification program, the U.S. Green Building Council (USGBC) is transforming the built environment. Every LEED building demonstrates new technologies and strategies, and educates designers, building occupants and operators about the benefits of building green. Companies, governments, developers and myriad others are establishing leadership in their commitments to build beyond minimum code, taking on higher levels of responsibility in their buildings and communities. This leadership is foundational in USGBC's pursuit of our mission of a sustainable built environment for all within this generation.
How LEED Evaluates the Use of Materials 
Materials and Resources is one of six green building categories addressed in the current 2009 version of the LEED rating system. One of the key strategies that LEED rewards is the use of local and regional materials from within 500 miles of the project. All materials, including wood, sourced or manufactured within 500 miles receive credit in LEED. This strategy is frequently adopted, as almost 90% of certified commercial LEED projects1 attain the local materials credit.
Achievement of these regional materials credits supports local economies.
Wood, a relatively lightly used material in commercial building construction, is often discussed in the context of LEED. LEED is structured to encourage an integrated, multi-attribute approach to the specification of material for a project. LEED specifically rewards the use of materials that are locally and conscientiously produced. Any wood product sourced from a forest within 500 miles of a project site receives credit towards LEED certification. 
Because American forests are such crucial resources, an additional LEED credit is available for the use of responsibly harvested wood from any state or region. These products must carry the industry-leading certification from the Forest Stewardship Council (FSC), an independent third-party recognition tool that supports rigorous and responsible forest management, which has certified over 33 million acres of forest the United States.
Satisfactory achievement of this credit rewards a project one point for 50% of wood carrying the FSC label, and rewards another point if 95% of the wood carries the FSC label. 41% of all LEED certified commercial projects2 take advantage of the certified wood credit. To maximize point attainment through the use of wood, projects should use wood that is produced locally and harvested responsibly. 
Material Impacts
Annually buildings consume 41% of the total energy and more than 60% of the electricity used in the United States.An average commercial building with 1500 employees will generate 300 tons of waste per year.
MR Credit 5: Regional Materials, 1-2 points 
"Use building materials or products that have been extracted, harvested or recovered, as well as manufactured, within 500 miles of the project site for a minimum of 10% or 20%, based on cost, of the total materials value."
MR Credit 7: Certified Wood, 1 point 
"Use a minimum of 50% (based on cost) of wood-based materials and products that are certified in accordance with the Forest Stewardship Council's principles and criteria, for wood building components."