Maple, pine, oak. They all live together in harmony in the woods, and they all work together to make an eye-catching kitchen island as well.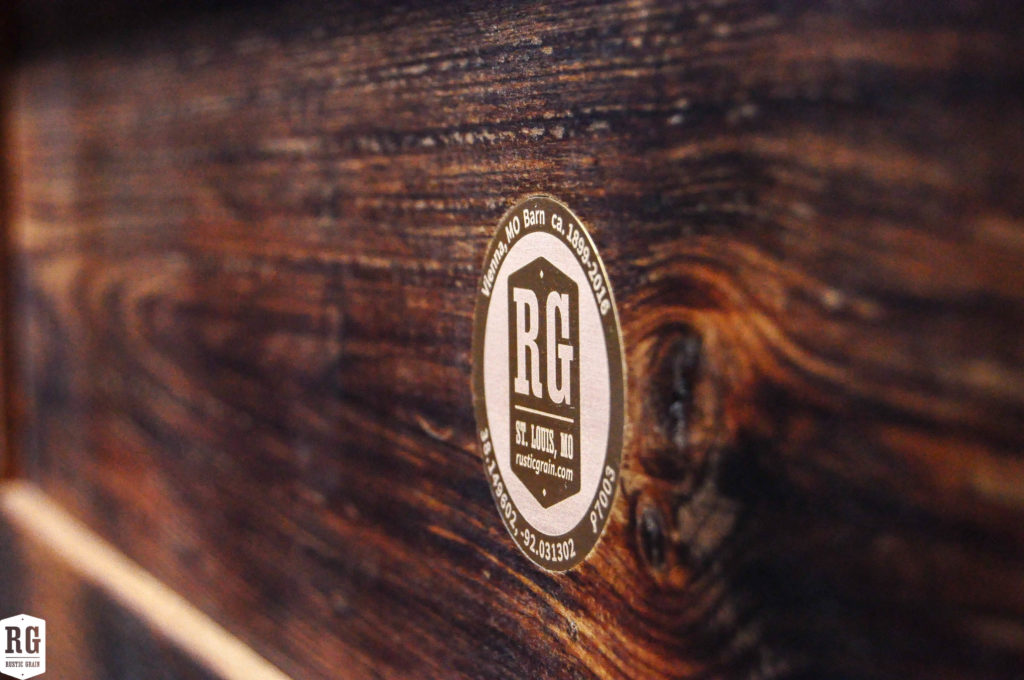 The base of this island is framed in oak reclaimed from our Vienna, MO barn. We kept a lot of the rough grain, but still gave it a beautiful polished finish. Just like the oak mostly comprised the framing that gave the barn its strength, it also gives this island a strong, stable foundation for all the kitchen tasks it will support.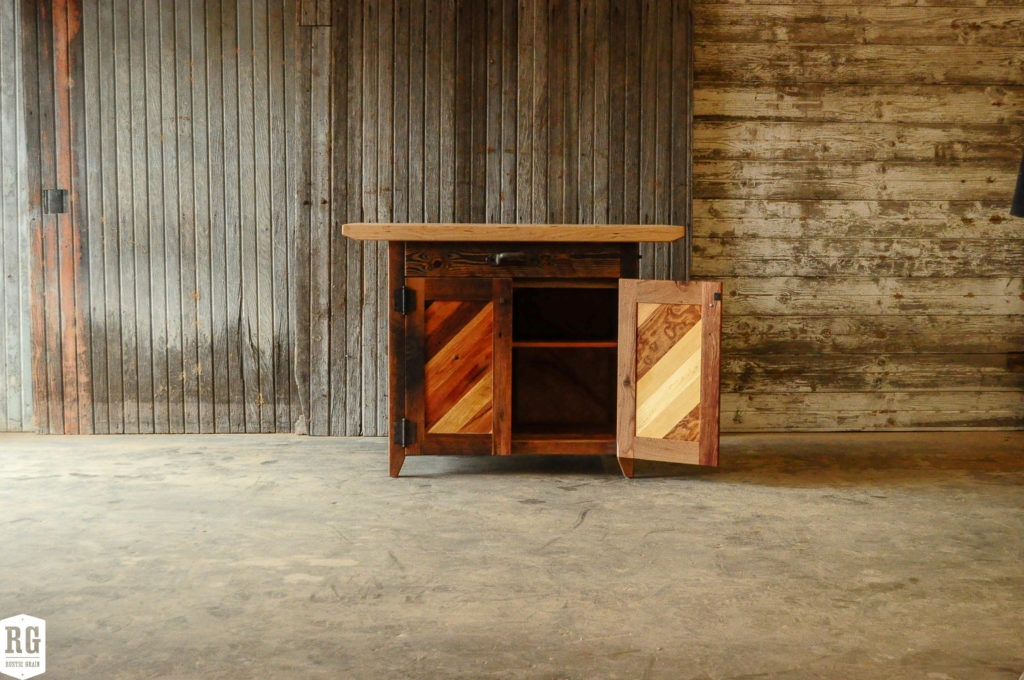 The doors are also from the Vienna barn, but from the pine planks that were used to cover framing. We used our classic chevron design that really lets the uniqueness of each board shine. The pine is a great wood to use for intricate designs because it's easy to cut and sand smooth and it takes stain in interesting ways.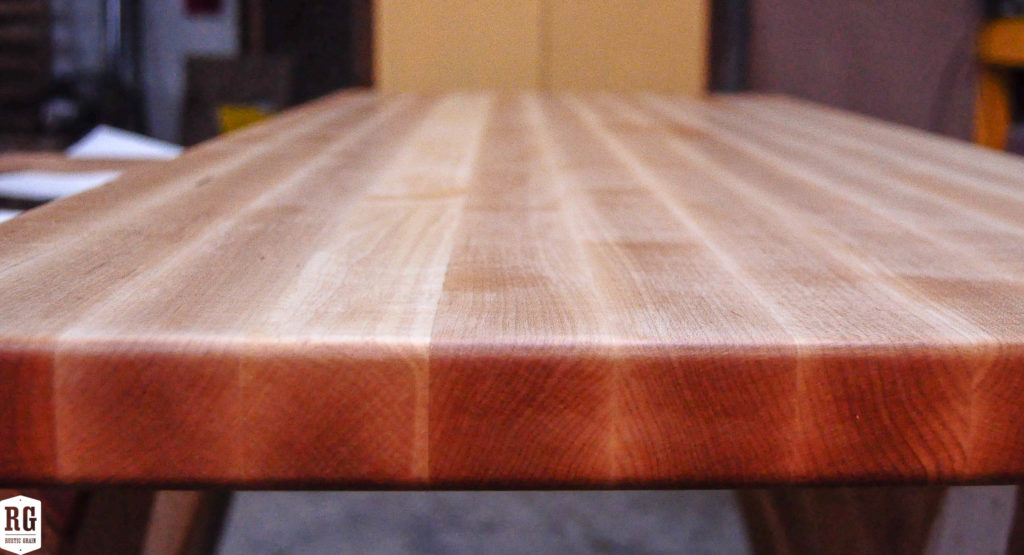 Now for the counter top itself, we used new sustainably-sourced maple. The texture of reclaimed wood that is so desired on the base, is not what we want for a countertop. The top, which will be subjected to heat and banging pots and bowls and all the various activities of food prep, is best left to a young wood which hasn't already endured a century of punishment by weather and nails. This maple is a close-grained wood which will stand up to all this kitchen use. A heavy treatment of foodsafe Tung Oil will keep it looking beautiful.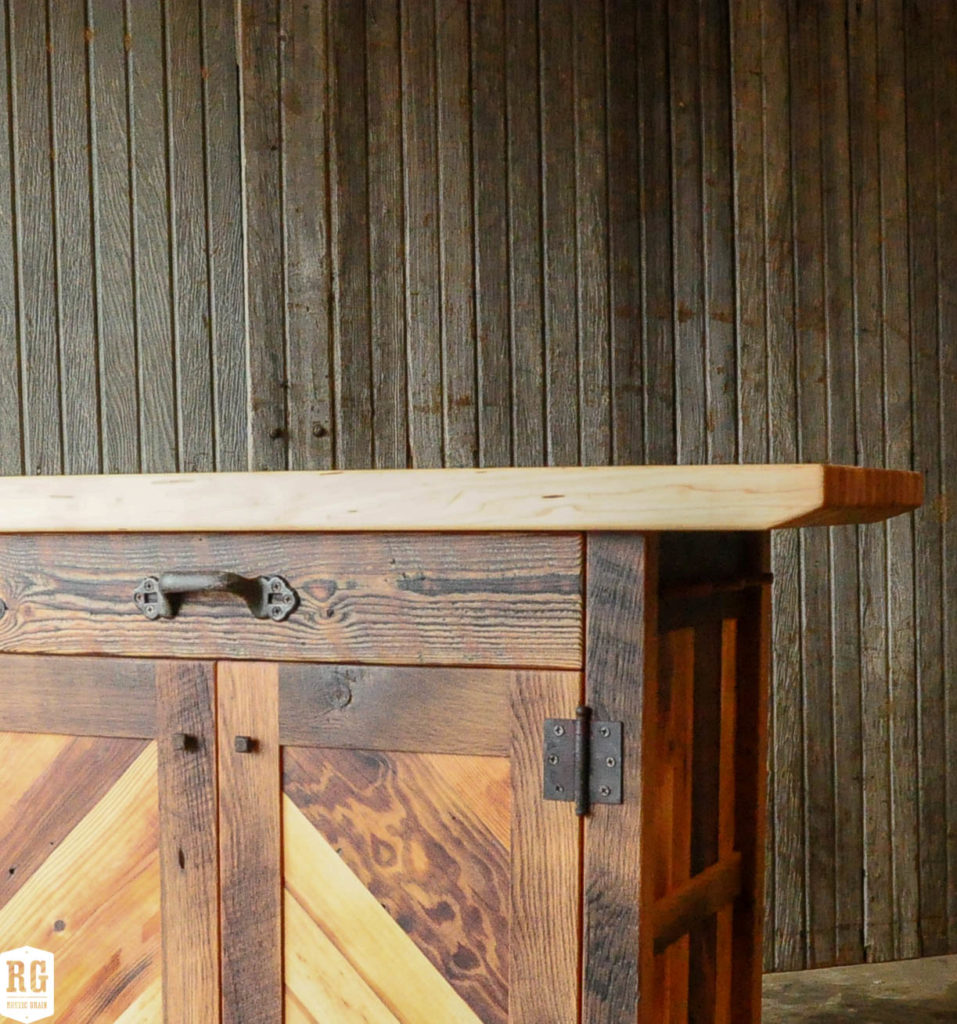 For one final nod to mixing the old and new, we used mostly old hardware. Those cabinet door knobs are actually reclaimed bolts from a barn in Illinois, the drawer pull is an old handle off of a decomposed farm implement (too far gone to identify), and the hinges were found lying around in a barn as well. When the design and desires of the client allow us to add this extra nod to the heritage of the piece, we love to include it. Of course, we used new top-of-the-line, soft-close drawer slides because we just couldn't find any of those in the barn!
Old and new wood, old and new hardware, old and new building techniques. They all come together to create a one-of-a-kind piece that will grace our client's kitchen for years to come.
Are you interested in owning your own unique piece from Rustic Grain? Fill out the contact form to get started.