Old things, like people (and wine), become more interesting the older they get. That's why I love transforming an old item into something entirely different – it's both a second chance at life and a means of honoring and preserving the scars the journey left on the item.
I love the barn wood dividing doors, counter and display pedestals that Rustic Grain made for us because they feel old and comforting – with leftover echoes from the shelter they once provided for animals or crops. But I also love them because talented craftsmen have transformed the barn wood in a way that adds to the story and provides an engaging backdrop to showcase the work of other talented artists.
I'm a lawyer by training so I never thought of myself as particularly creative – I have always been lucky to be surrounded by people with that talent. Repurposing has allowed me a bit of personal reinvention – namely a chance to explore my creative side. It's not really hard – just use your imagination. Try this – did you know that some giant industrial baker's whisks could have a new life as a light installation in an art gallery or that some old cable spools made perfect pedestals for sculptures and other art displays? Or that with some paint and imaginative distressing that doors make great desks? It works, saves something old and creates interesting space.
So the next time you think about throwing out that old wooden window, take a moment to look at it from a different angle. With a little imagination, elbow grease or the right talented friend, you could have a great new conversation piece to display jewelry, photographs or other art. And you'll be surprised at how satisfying it can be.
If you need some inspiration – talk to the guys at Rustic Grain or stop by and see us.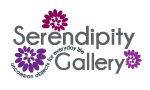 Lisa Anne Houdyshell
Gallery Manager
Serendipity Gallery
6161 Delmar Blvd., Suite 101
St. Louis, Missouri 63112
314 449-6400