The attraction of barnwood furniture is that it draws the outside in. Take this breakroom as DeliStar. Those huge glass garage doors open up to their Simple Promise walking trail through their garden area to their native pollinator restoration area (that's butterflies and bumblebees). Sustainability–both of the land and their employees. It's their way of giving their employees a way to get outside, breathe fresh air, and bask in the sunshine so when they get back to work, they are at their best to provide the best to their customers.
How do you furnish a space that reflects that attitude? With wood that has been outside in that fresh air and sunshine for over a century.
We start with eight 4-seat tables, fabricated in metal. I'm not sure who would sit with their backs to that view, but I'm sure they'll do because they kindly are letting their colleagues enjoy the view AND their stellar conversation. Add two bar height beam tables, with gorgeous waterfall edges and those crazy huge finger joints. Like a lot of our work with beams, we've left cutouts of the mortise joints for some interest and some cable management as desired. Finally we have two pub tables that DeliStar has put to work as a coffee table around that bright red couch. Hope to see lots of watermarks on those tables as they get plenty of use in this room.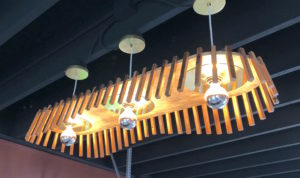 The highlight piece for us however is this wave pendant light. It's a brand new design and our second venture into lighting. The glow off the wood is just so warm. And it's not just for businesses. It would be a fantastic addition in a dining room or over a kitchen island.
Thanks, DeliStar, for letting us stretch our creative muscles and including us in this space for your employees!
---
Gotta have your own wave pendant light? Do these tables spark an idea for your space? Fill out this form and we'll start our own project together!