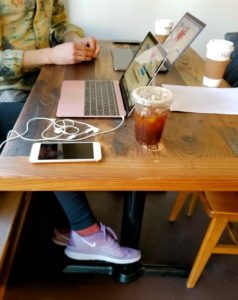 Sometimes the job is simple, but the client is always fascinating. Take our recent work with Urban Fort Play Cafe. We did our thing–reclaimed wood tops on pub table bases in their lobby and two lounge areas. One of the tables is a really cool circle top for some great gatherings. They are the quality, silky-smooth tabletops that are our breadboard and butter. 😉
But today we're happy to let their location, Urban Fort Play Cafe, take the spotlight. We are so excited about what Urban Fort is doing in our community. Monica and Megan dreamed up Urban Fort as a place for imperfect parents and kids to gather together in mutual support because parenting is stressful enough without trying to figure out where you live on the parenting ranking list. (FYI that doesn't really exist; it just feels like it does some days.)
Part coffee shop, part indoor play area, kids can play in a safe, creative area while their parents and caregivers watch, work, and most importantly relax. Their play coaches facilitate creative play and provide an extra pair of eyes to watch out when kids go in multiple directions or so you can finish a sentence.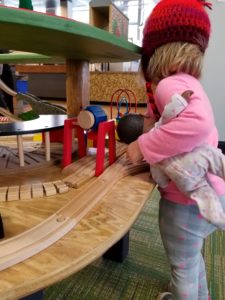 And oh boy! Will your kids play! They have a two level train track set. A huge market and food play area. A bouldering wall with nice soft places to jump and land on. Babies to play house with. A slide. A non-walkers area, fully enclosed for safe play. Dress up. If there is a way for your kids to use their imaginations, Urban Fort provides the resources.
Meanwhile, their cafe stocks snacks and drinks for the whole family, keeping parents well-caffeinated and kids' bottomless tummies full. And parents can sit at Rustic Grain tables enjoying their coffee while it's still hot. Luxury…
So go check them out. Give this new, needed local business a try. We're sure you'll fall in love like we have.
Urban Fort Play Cafe is open now. Check out their website for times and location and follow them on Instagram!
PS Thanks to RG kids, Katie and Lena, for showing off some of the cool aspects of Urban Fort Play Cafe.